Eipperle, Rabea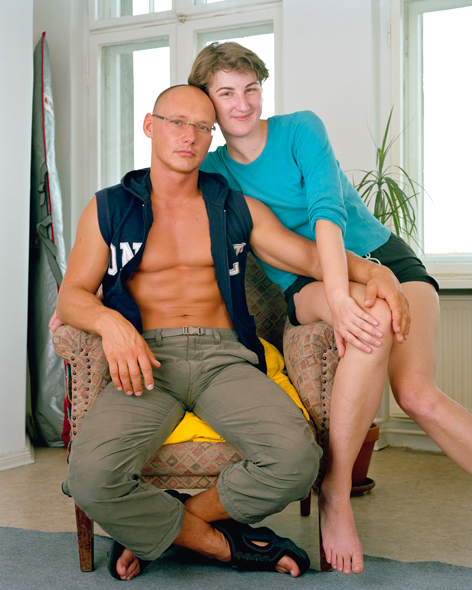 Born 1973 in Mutlangen, Germany, lives in Berlin
In most European languages, the word "person" is derived from the Latin word persona, which means "mask". German photographer Rabea Eipperle explores the extent to which the concept of person merges with that of a mask. In one of her series, she takes on the role of a girl called Nicole: "I was a simulation of this provincial girl. Actual experiences and memories are mixed with fiction." The photographs depict a smiling and somewhat insecure young girl standing by the trunk of a car, holding a heavy case of beer. Are we ourselves, or does how we behave, how we move, our body language, and how we present ourselves to the camera have nothing to do with being natural and authentic? Is our behavior really just a mask that we put on, something taken from advertising, movies or television?
Eipperle asks the fundamental question as to who we actually are—for instance, in her series Wir (We) from 2009. In the small German town of Soest, she randomly approached young people on the streets and asked them to let her take group portraits of them. How do these young people, placed before a neutral background, present themselves to the camera? Almost never naturally. Their attempts to strike poses that they know from advertisements and fashion magazines are impossible to ignore: they stand unnaturally with legs apart, awkwardly cross their arms, tilt their heads back, and have frozen expressions on their faces.
Elsewhere, Eipperle plays with the wellknown motif from magazines and advertisements in which sexy women pose in front of shiny cars. In her pictures, however, it is the car's owner standing in front of his wheels—completely naked. These men responded to an ad that Eipperle places in a nudists' magazine, and thus voluntarily provided their bodies like trained models. This series from 2006, entitled Unbekleidet mit Auto (Undressed with Car), breaks down stereotypes related to our association of masculine pride with cars.
In the series Mit uns ein Gefühl (With Us a Feeling), Eipperle photographs herself with the ultimate symbols of manhood—bodybuilders. Whether they are seated, standing, or embracing, their roles are always clear: he, with heroically flexed chest and a victorious expression on his face; she, practically transformed into captured prey, smiles guilefully. Eipperle's photographic works demonstrate quite convincingly that "person" may truly just mean "mask".