EXHIBITION


«Valentin Carron &
Jacques Chessex»




15.04. –
27.05.2023
OPENING:
Fr. 14.04.
6 PM
In this exhibition, «Valentin Carron & Jacques Chessex», the Tichy Ocean Foundation presents the artist Valentin Carron, born in Martigny in 1977 with Jacques Chessex one of the most well-known French-speaking Swiss writers Chessex –who is exhibiting in Zurich for the first time–, along with his lesser-known small pictorial works, namely gouaches and collages.

Central to this exhibition is Carron's larger-than-life sculpture "Man and Child". It was conceived especially for the Tichy Ocean foundation exhibition and is placed, as per the artist's wish, with more than fifty Chessex's collages (1934-2009), meant as a sculptural haven of peace for the rather existential paper-works. Chessex made his international breakthrough in 1973 with the novel "the child eater". His extensive work includes poetry, prose, and essays. As for his presented works, they are populated with a multitude of whimsical characters, more human (mostly female or hermaphrodite) than mythical creatures, like the Minotaur with bull head and the human body. The focus is here on human behaviour and the abysses resulting from it. Another main theme is the hypocrisy that also characterizes Chessex's literary work. Many of Carron's works consist of developments of existing artefacts, either true to the original or based on originals such as decorative patterns and sculptures from open spaces in his immediate environment. Thus, the wooden sculpture "Man and Child", executed with impasto colouring, plays with the variations of artistic human representation in the construction finishes of the fifties and sixties, which are known in many parts of the world. One of the main characteristics of these works is the edgy performance of physiognomies, among which those of Lynn Chadwick. Carrons' pictorial language plays with a globally oriented world of signals, adapting and ironizing them, to transform them into an inherent part of his artistic expression.

His use of stylistic opposites and fake materials is meant for provocation, as it evokes the question of Original vs. Copy, but most importantly that of Tradition vs. Identity. At the same time, space plays an important role as the place of presentation. "I am a megalomaniac and like the idea that every exhibition is a space or a collection of spaces that, once put together, create a huge palace", says the artist. "I often think of Xanadu, the estate of Citizen Kane. Every showcased work fulfils its original own criteria, but it is a pretext for me to make the observer go through the whole exhibition space. Ideally, they would move between the works that evoke sensations in them and show what location they adopt, or how they should consider these works as if they were following a partition or a choreography."

Carron is one of the most outstanding Swiss artists of his generation; in the past few years, Le Consortium in Dijon (2020), the Kunsthalle in Bern (2014), the Palais de Tokyo in Paris (2010) and La Conservera in the Spanish Murcia (2009) have dedicated extensive exhibitions to him. In 2013 he was chosen for the Swiss pavilion of the Venice Biennale, and in 2015 he received the renowned Overbeck prize for pictorial art in Lübeck (Germany).

Guest curator:
Oliver Zybok, Director of the Lübecker Overbeck-Gesellschaft

Jacques Chessex, Courtesy of the gallery:
Aarlo u Viggo, galerie d'art à Buchillon

Thank you to the family of Jacques Chessex and the Aarlo u Viggo Gallery in Buchillon.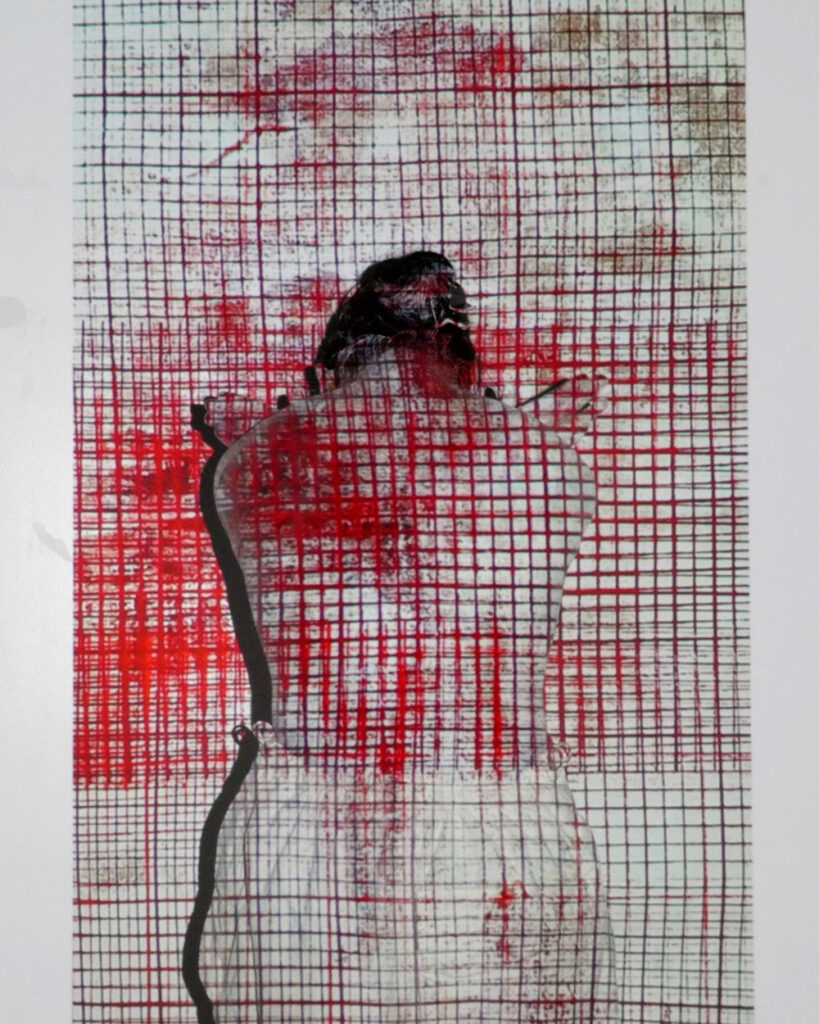 EXHIBITION


Mandy El-Sayegh



PART 1:


Tichy Ocean Foundation
Lessings. 9, 8003 Zurich

09.06. – 20.08.2023
Opening: Sa. 10.06. | 6pm





PART 2:


Wasserkirche
Limmatquai 31,8001
Zurich

09.06. – 16.07.2023
Opening: Sa. 10.06.
2-4pm
Tichy Ocean Foundation presents the first solo presentation in Switzerland by artist Mandy El-Sayegh. Featuring a range of works including large-scale paintings, sculpture and multi-media installation, the exhibition will span both Tichy Ocean Foundation and Wasserkirche, Zürich.

This expansive exhibition deals with themes including historical violence, theology, structures of art-history and the far-reaching symbolism of the body. Encircling these themes, running through the works in their wide range of media, an investigation into the processes of painting and of art-making is a unifying lens.

The exhibition showcases new works created in 2023, some of which will travel from El-Sayegh's solo exhibition Enfleshing, presented in Overbeck-Gesellschaft and St. Petri Church, Lübeck, Germany.

Among the works on view will be a multimedia installation incorporating layering of sound and imagery collected by El-Sayegh from a vast range of sources. Visuals include processes and objects in the artist's studio taken with a phone in the course of creating works; landscapes; as well as archival material such as a map of occupied Palestine and footage of victims of nuclear bombing. There are clear references to historical violence in the material, but also a focus on painterly techniques, which combine to express the artist's long-running interest in how artistic processes, specifically the use of layering and transparency, can be used to subtly question inherited power structures.

Mandy El-Sayegh
Born in Selangor, Malaysia (1986), Mandy El-Sayegh lives and works in London, where she received a BA in Fine Art from the University of Westminster in 2007, followed by an MA in Painting from the Royal College of Art in 2009. Her work has been shown in the British Art Show, UK; Centre Pompidou, Paris France; Biennale Matter of Art, Prague, Czech Republic; UTA Artist Space, Los Angeles, USA (both 2022); Busan Biennale, Busan, South Korea (2020); Sursock Museum, Beirut, Lebanon; SculptureCenter, Long Island City, USA); Chisenhale Gallery, London, UK (all 2019); The Mistake Room, Guadalajara, Mexico; Instituto de Visión, Bogota, Colombia (both 2018); Sifang Art Museum, Nanjing, China (2017); and the NY Art Book Fair at MoMA PS1, Queens, USA (2016), among others.

Works by El-Sayegh are held by collections including Tate, purchased with funds provided by Simon Nixon and family 2022; Los Angeles County Museum of Art, USA; Institute of Contemporary Art North Miami, USA; Sharjah Art Foundation, UAE; Long Museum Shanghai, China and Start Museum, Shanghai, China.
Exhibition


Alfredo Jaar
«Five Women»
Eröffnung durch Mirjam Varadinis
10.12.2022–
23.03.2023
LECTURE


Martin Vadas
«Proces H» Milada Horáková
17.03.2023
6:30 PM
TALK


Dr. Anna Mirga-Kruszelnicka
«Roma pride,
self-representation and
the contemporary arts»
Fri. 27.01.
6:30PM
Exhibition


Anna & Bernhard Blume; Paul McCarthy; Damien Hirst; Brigitte Debeaux; Christian Jankowski; Jürgen Klauke; Jiří Kovanda; Urs Lüthi; Jonathan Meese; Pierre Molinier; Luboš Plný; Wulf Rössler; August Walla; Peter Weibel; Gillian Wearing; David Weiss; Andro Wekua
«SELBST/SELF/I»
17.09.–
20.11.2022
Lecture


Prof. Wolfram Kawohl
«Tourette!»
03.11.2022
6PM
Lecture


Daniel Strassberg
«Ist das
Ich selbst
ein Kunstwerk?»
06.10.2022
6PM
Book launch


Thomas Jędrzejak
«T'ink»
Original Drawings Exhibition
Speaker: Marc Kappeler, Reportagen
Lecture


Prof. Dr. med. Erich Seifritz
«Psychedelika in der
antidepressiven Therapie»

Exhibition


Stefan Vogel


«

Wo der gelbe Fleck ist und
das Scheitelhaar liegt, da tut es weh

»


read more
10.06.–
21.08.2022
Exhibition


Miroslav Tichý


«

After any given time –
Harald Szeemann & Miroslav Tichý
»
read more
17.09.–
28.05.2022
Booklaunch


Armand Schulthess


«

Ein Neues Buch
über den Enzyklopädisten
im Kastanienwald von Auressio

»


read more
05.05.2022