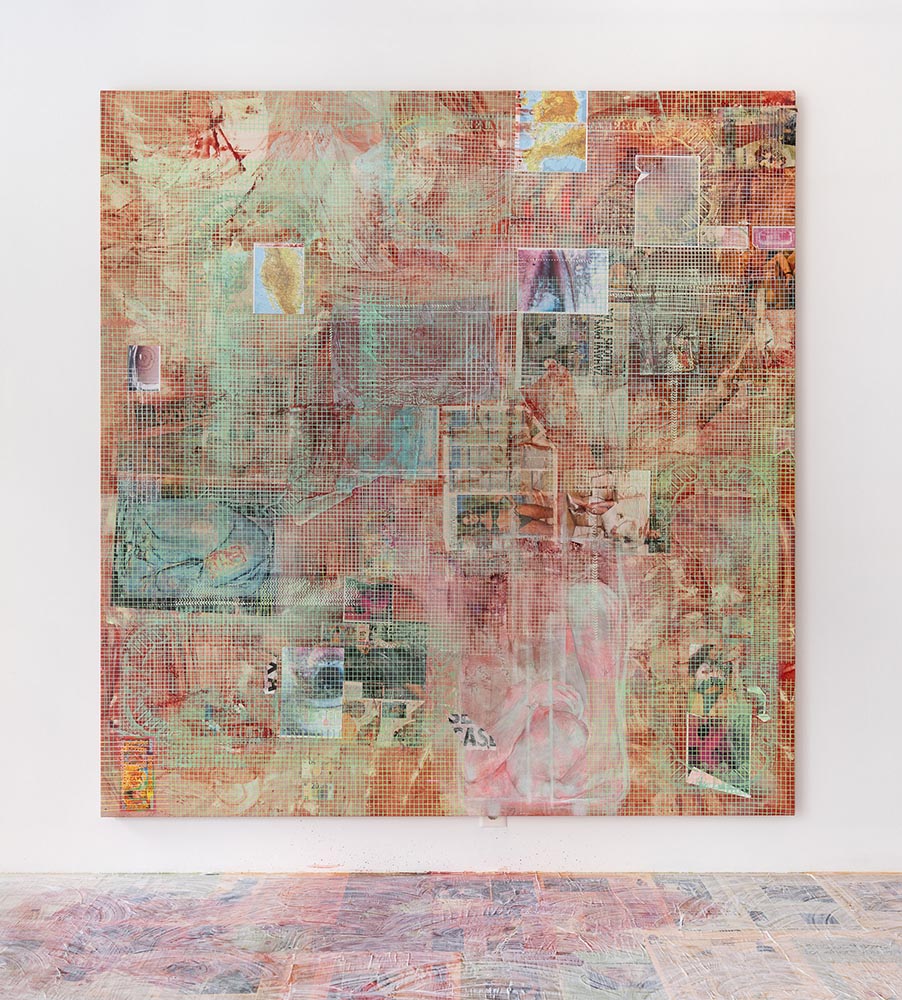 SPECIAL EVENT:




CLOSING CELEBRATION &




BOOK LAUNCHELLING
Artist Talk between Mandy El-Sayegh
and Gareth Longstaff
THURSDAY 30.11.2023
6:30PM


Join us to welcome Mandy El-Sayegh in conversation with Dr Gareth Longstaff
Following the talk, there will be an aperitif offering the possibility of meeting the artist personally.
On the occasion of the closing of Mandy El-Sayegh's exhibition «In Session» at Tichy Ocean Foundation, and to celebrate the launch of the recently published catalogue «SUPERIMPOSITION», we are honoured to host an intimate conversation between El-Sayegh and special guest Dr Gareth Longstaff.
The catalogue not only documents the artist's latest exhibitions but provides an in-depth view of El-Sayegh's artistic process. Alongside an essay by Dr Gareth Longstaff, the book also features an exclusive interview between the artist and Hans Ulrich Obrist. In conversation with Dr Gareth Longstaff, Mandy El-Sayegh will explain her working methodology. This artist talk is a rare opportunity to discover El-Sayegh's body of work, and discuss her practice, research and collaborations.
«In Session» is 's first solo show in Switzerland, for which she created a sweeping installation reimagining the consulting room of the psychoanalyst Sigmund Freud. El-Sayegh assembles objects such as an antique examination couch, Persian rugs and a shelf displaying personal artefacts, mirroring 'Oriental' objects which fascinated Freud. These curiosities, each of which is loaded with its own history and embedded power relations, open a topography of memoria and the power it holds upon societies and how bodies keep the score. Her artistic approach follows the Lacanian terminology of "arbitrary contingents" and draws from the deep atlas of the subconscious.
Dr Gareth Longstaff
Dr Gareth Longstaff is a lecturer in media and cultural theory at Newcastle University. His research interests are primarily concerned with sexuality, celebrity and pornography culture, including (self) representation in visual cultures. Herein he closely engages with queer theoretical critique and Lacanian psychoanalysis to exami- ne these dimensions of social experiences.
@ Tichy Ocean Foundation in Zurich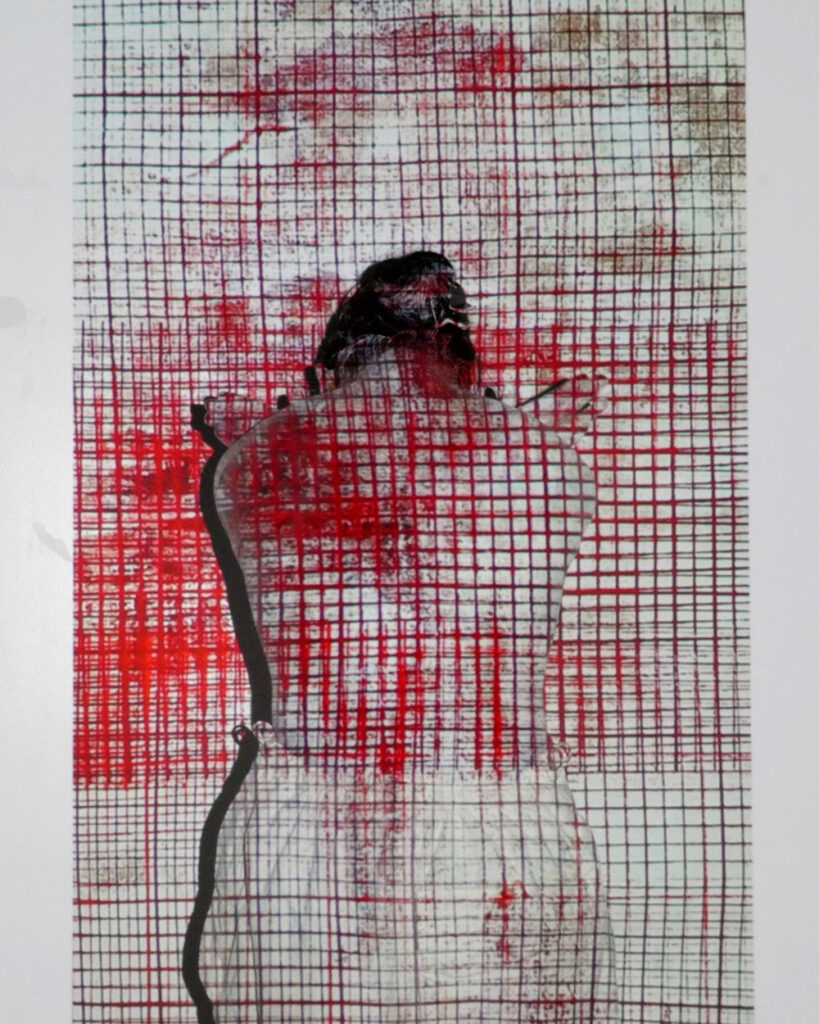 EXHIBITION


Mandy El-Sayegh
«In-Session»

Tichy Ocean Foundation
Lessings. 9, 8003 Zurich

Opening hours:


Thu-Sat | 12-6pm
read more




JUNE 9 – NOV 30

Tichy Ocean Foundation presents In Session the first solo exhibition in Switzerland by Mandy El-Sayegh. Spanning Tichý Ocean Foundation and Wasserkirche, Zürich, the exhibition features large-scale paintings, sculpture, and multi-media installation, and includes new works made by El-Sayegh responding to the exhibition spaces and to the archive of Miroslav Tichý.
El-Sayegh's installation in Tichy Ocean Foundation reimagines the consulting room of renowned neurologist and founder of psychoanalysis Sigmund Freud. This thematic thread, also hinted at by the exhibition's title In Session, connects to the context of the exhibition, which is situated within an active psychology and psychotherapy practice.
El-Sayegh incorporates objects such as an antique examination couch, as well as Persian rugs and a shelf displaying antiquities, mirroring the 'Oriental' objects which fascinated Freud. El-Sayegh assembles these objects, each of which is loaded with its own histories and embedded power-relations: be it in the consumption of 'exotic' commodities; the position of power taken on by the clinician; or the architecture of authority behind the culturally dominant forms of knowledge which underpin our society.
On view in the gallery spaces are new works by El-Sayegh, all of which are informed by her own interest in psychoanalysis, which forms a key part of her artistic research. One element which constantly recurs in El-Sayegh's work, across its many media, is the idea of symbolically attempting to re-incorporate disparate fragments into a coherent whole. This can be seen in her densely layered paintings, and the works which spread across the walls and floor of the gallery.
In a small gallery at the back of the space, a new sound work, created by El-Sayegh in collaboration with composer Lily Oakes, incorporates a collage of sources, including a recording of a psychoanalysis session the artist undertook during her research for the project with Dr Daniel Strassberg, a psychiatrist and psychoanalyst practicing in the building. Presented alongside this sound piece is a vitrine table sculpture by El-Sayegh – a composition of objects laid out in a metal and glass structure which recalls an archival display case or perhaps an autopsy table. This work forms part of a series El-Sayegh has executed over the past decade, which operates through a process of collection and assemblage, tying the works to other series, such as her paintings, which use the same logic of composition. Sculptural components made by the artist and found objects, often everyday items, each with their own symbolism, are arranged within the tables, drawing together disparate 'organs' into a makeshift 'body'. Objects are assembled in vitrines using an instinctive process of free association, which the artist likens to a session of psychoanalysis, with one table representing one 'session'.
The vitrines, like all of El-Sayegh's works, draw on her personal archive of objects and ephemera collected over time. This collecting impulse forms a connection with the archive of the Miroslav Tichý (1926-2011), which is housed at the Foundation. Initially trained at the Academy of Fine Arts in Prague, Tichý later acquired an 'outsider' status, living on the margins of Czech society and developing a singular art practice, surreptitiously photographing his subjects, almost exclusively women, using home-made cameras. El-Sayegh explored the Tichý archive in the creation of the exhibition, and incorporates images taken from his photography into her installation, for example the screen-printed reproductions of women's torsos which appear in the latex and newspaper installation which covers the gallery floor, and in the layered, unstretched paintings-in-progress which unfurl across the walls.
El-Sayegh's attention was caught by the poeticism of Tichý's images, and by their connection to the notion of the body-in-pieces, which is a frequent motif in her own work. Captured on film, Tichý's subjects appear fragmented – objects of veneration which lose their agency, their wholeness, under gaze of Tichý's lens. The psychic economy within which the images operate, for El-Sayegh, connects the work back to psychoanalysis, as does Tichý's position as an outsider, which suggested another connection to Freud who, as a Jewish man, was also marginalised by the dominant systems of his day. El-Sayegh makes reference to the history of Jewish persecution with the painting Lager (2023), a title chosen on her discovering that the German word for concentration camps is the same as is used for warehouses, such as those used to store artworks.
In Wasserkirche, El-Sayegh presents the immersive installation Enfleshing, first presented in St. Petri Church, Lübeck, Germany as part of her exhibition for Overbeck-Gesellschaft Kunstverein earlier this year.
El-Sayegh has 'reskinned' the church, installing layers of muslin, latex and paint on the floor alongside draped, hanging works which evoke vellum, the calf-skin parchment onto which manuscripts were written in the medieval period. The centrepiece of Enfleshing is the video and sound work Superimposition (2023), which once again uses a layering of sound and imagery collected by El-Sayegh from a vast range of sources.
Visuals include processes and objects in the artist's studio taken with a phone in the course of creating works; landscapes; as well as archival material such as a map of occupied Palestine and footage of victims of nuclear bombing. There are clear references to historical violence in the material, but also a focus on painterly techniques, which combine to express the artist's long-running interest in how artistic processes, specifically the use of layering and transparency, can be used to subtly question inherited power structures.
The title Enfleshing, particularly within this religious setting, holds connotations of the spirit-made-flesh. This title points to the centrality of the body, in literal and symbolic forms, running through El-Sayegh's work. This emphasis on the body once again returns to the works of Tichý, with the painted torsos of performers within El-Sayegh's film work uncannily echoing the glimpsed forms
of his unknowing subjects.

Text by Anna Pigott
Curated by Oliver Zybok
Mandy El-Sayegh
Born in Selangor, Malaysia (1986), Mandy El-Sayegh lives and works in London, where she received a BA in Fine Art from the University of Westminster in 2007, followed by an MA in Painting from the Royal College of Art in 2009. Her work has been shown in the British Art Show, UK; Centre Pompidou, Paris France; Biennale Matter of Art, Prague, Czech Republic; UTA Artist Space, Los Angeles, USA (both 2022); Busan Biennale, Busan, South Korea (2020); Sursock Museum, Beirut, Lebanon; SculptureCenter, Long Island City, USA); Chisenhale Gallery, London, UK (all 2019); The Mistake Room, Guadalajara, Mexico; Instituto de Visión, Bogota, Colombia (both 2018); Sifang Art Museum, Nanjing, China (2017); and the NY Art Book Fair at MoMA PS1, Queens, USA (2016), among others.

Works by El-Sayegh are held by collections including Tate, purchased with funds provided by Simon Nixon and family 2022; Los Angeles County Museum of Art, USA; Institute of Contemporary Art North Miami, USA; Sharjah Art Foundation, UAE; Long Museum Shanghai, China and Start Museum, Shanghai, China.
EXHIBITION


Miroslav Tichý
«Screenshots»

Location:
GALLERIA EDIZIONI PERIFERIA
Unterlachenstrasse 12
CH-6005 Luzern


AUG 26 – DEC 17


Opening hours:
Only by appointment (mail@periferia.ch)
The Galleria Edizioni Periferia, in collaboration with the Tichy Ocean Foundation, is thrilled to introduce the upcoming exhibition "SCREENSHOTS". This remarkable showcase goes beyond Miroslav Tichý's celebrated photographs, offering an unprecedented glimpse into his world by unveiling his drawings and paintings for the very first time.

In the 1970s and '80s, Miroslav Tichý took pictures of his television screen. Since he lived in the small town of Kyjov near the Austrian border, he was able to escape the confines and prudery of Eastern Bloc censorship and watch the Austrian television channel ORF, which aired West-ern movies and more permissive latenight shows.

Photographing daily, Miroslav Tichy consistently pursued his practice from the academy: an exercise in looking, tracing, and reproducing the female body.

In conjunction with the exhibition, Edizioni Periferia is releasing the book titled "Miroslav Tichý – Screenshots". The exhibition and book are produced in collaboration with the Tichy Ocean Foundation Zurich.
STORYTELLING

:
«SPOOKTACULAR –
Ghosts seeking audience!»
Storyteller: Samantha Grob
10.11.2023


BUCHVERNISSAGE


«Miroslav Tichý – Screenshots»
Gianni Paravicini

Miroslav Tichý
«Ein Aussenseiter unter Aussenseitern» Roman Buxbaum
14.09.2023



LECTURE


Martin Vadas
«Proces H» Milada Horáková
17.03.2023
6:30 PM
TALK


Dr. Anna Mirga-Kruszelnicka
«Roma pride,
self-representation and
the contemporary arts»
Fri. 27.01.
6:30PM
Exhibition


Anna & Bernhard Blume; Paul McCarthy; Damien Hirst; Brigitte Debeaux; Christian Jankowski; Jürgen Klauke; Jiří Kovanda; Urs Lüthi; Jonathan Meese; Pierre Molinier; Luboš Plný; Wulf Rössler; August Walla; Peter Weibel; Gillian Wearing; David Weiss; Andro Wekua
«SELBST/SELF/I»
read more
17.09.–
20.11.2022
Lecture


Prof. Wolfram Kawohl
«Tourette!»
03.11.2022
6PM
Lecture


Daniel Strassberg
«Ist das
Ich selbst
ein Kunstwerk?»
06.10.2022
6PM
Book launch


Thomas Jędrzejak
«T'ink»
Original Drawings Exhibition
Speaker: Marc Kappeler, Reportagen
Lecture


Prof. Dr. med. Erich Seifritz
«Psychedelika in der
antidepressiven Therapie»

Exhibition


Stefan Vogel


«

Wo der gelbe Fleck ist und
das Scheitelhaar liegt, da tut es weh

»


read more
10.06.–
21.08.2022
Booklaunch


Armand Schulthess


«

Ein Neues Buch
über den Enzyklopädisten
im Kastanienwald von Auressio

»


read more
05.05.2022
Exhibition


Miroslav Tichý


«

After any given time –
Harald Szeemann & Miroslav Tichý
»
read more
17.09.2021–
28.05.2022