Hope, Andy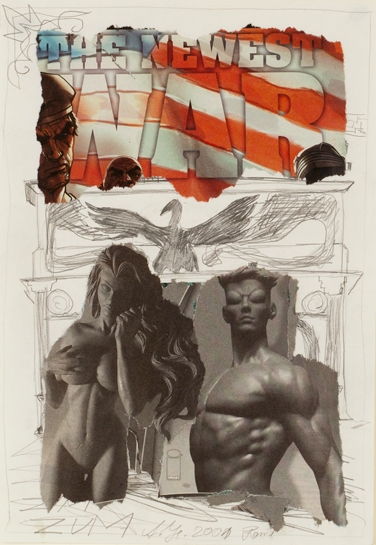 Born 1963 in Munich, Germany, lives in Berlin
In the paintings of Andy Hope (real name Andreas Hofer), it is as if time had spilled over into all dimensions: the future, the past, the present, the 1930s, as well as the 1950s and '60s. Everything is represented, not only excerpts from modern works of art, but also pictures from comics, science fiction, Hollywood B movies, posters, and tabloids. In Hope's world, the horrifying sun god meets Superman on an abstract background that resembles the colourful images of the founder of abstract painting, Kazimir Malevich.
Together with Thomas Zipp, Markus Selg and Thomas Helbig, Hope belongs to the generation of German painters whose world is swarming with obscure forms. In Hope's case, there are gods and demigods, supermen, criminals, devils, animals with human heads, dragons, dinosaur, cowboys, and movie stars. He presents his paintings and drawings in installations that sometimes create almost surprising mental spaces. These have always been in our dreams and imagination, on the pages of comic books, in films and science fiction, but not in modern art. Malevich's black square on a white background has kept this world at a proper distance. Since the 1980s, these creatures have demanded our attention and have entered the world of art; they rise to the surface from holes and caves, from dreams and phantasmagoria. However, they are not an oppressive, dismal world, as in German expressionism or the nostalgia of the 1980s. It is a modern world—peculiar, but alluring, and to a certain degree even amusing.
The French sociologist Bruno Latour describes this world in his book Nous n'avons jamais été moderns (We Have Never Been Modern). It is full of hybrid visions and mysterious objects. The more our modern world has tried to suppress them with norms and enlightening processes, the more vigorously they have multiplied. Modern art played an important role in this development. If we just remember the pleas for a rational approach to a wide range of modernist movements or the almost ascetic adherence to the purity of form for minimalists, an artistic trend dominating the 1960s and '70s. For Hope, all creatures and apparitions driven into caves and dens have consciously returned to the light. They playfully occupy the spaces of his paintings and often even the entire exhibition area. They are grotesque, sometimes even ludicrous, but they have a drug-like attraction—similar to comics, science fiction and B movies. Whoever comes in contact with them can rarely ever manage to escape.