Kippenberger, Alex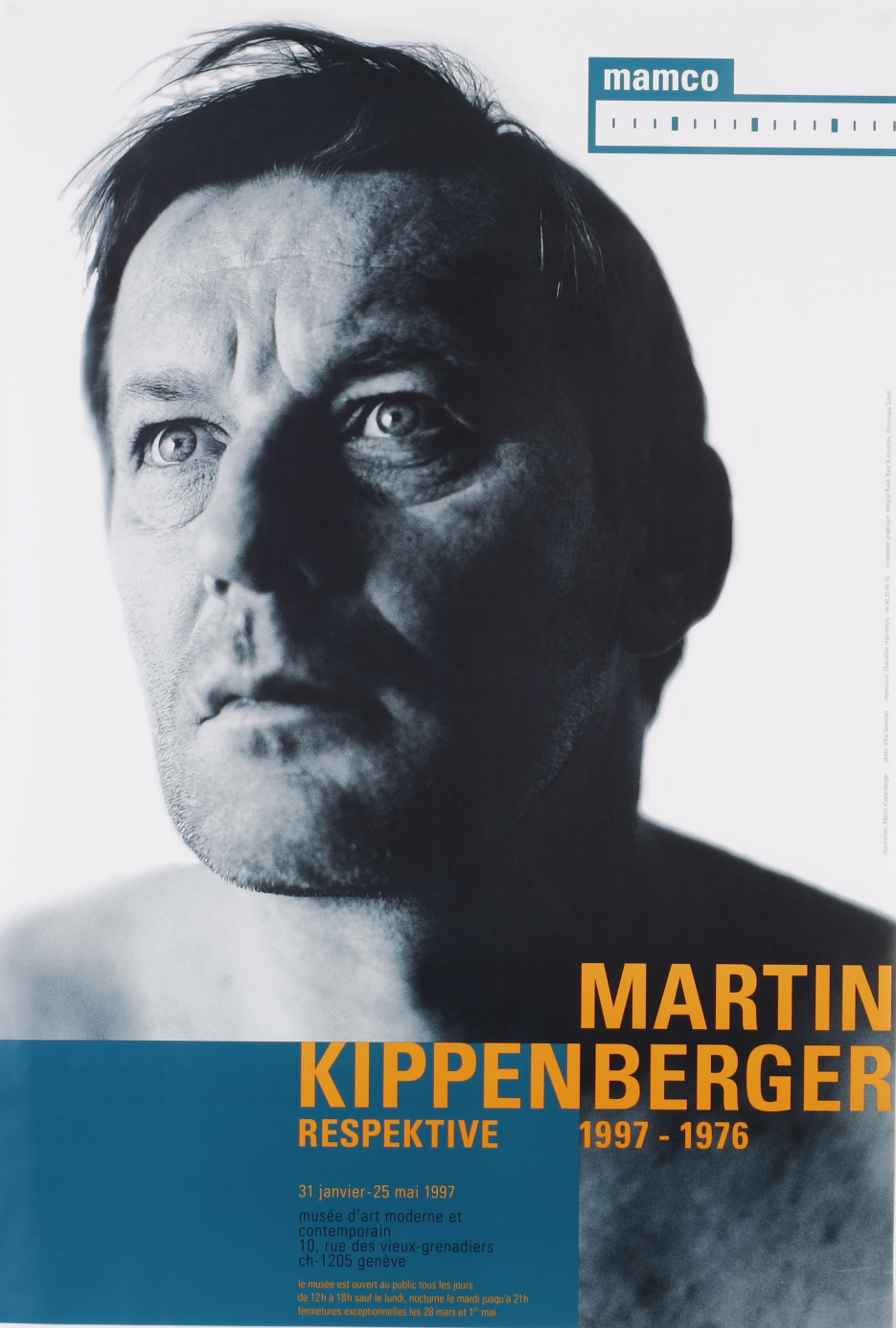 Born 1953 in Dortmund, died 1997 in Vienna
What other artist has incited a hunger strike by a Catholic functionary and even a reaction from the Pope? In 2008, Kippenberger exhibited a periwinkle green frog nailed to a cross (1990) at the Museum of Modern Art in Bolzano. In protest, the president of the Tyrolean council, backed by a letter from Pope Benedict XVI, started a hunger strike and demanded that the museum remove it. He did not succeed. The crucified frog was still displayed in the museum.
At the end of the 1970s, Kippenberger, who studied with Werner Büttner and the Oehlen brothers in Hamburg, moved to Berlin. Here he founded the "Büro Kippenberger" with Gisela Capitain and became the manager of the SO 36 club where intellectual artists of bourgeois origin, such as Kippenberger, and the hard-core reality of proletarian punks came together. Kippenberger had a photo taken by one of them with a shrouded face, and he used this photo on a poster for the exhibition "Kippenberger. A Dialogue with Youth".
Influenced by these experiences, Kippenberger was more than capable of balancing between intellectually intense thinking and staged absurdity, aggression, disgust, and awkwardness. Some of the titles include Heute denken—Morgen fertig (Think Today—Tomorrow Ready) or Durch Pubertät zum Erfolg (Through Puberty to Success), appearing on these posters which he thought were just as important as his pictures and installations. Kippenberger would have also undoubtedly agreed to exchange his posters with the Tichy Ocean Foundation, as permitted by the co- founder of "Büro Kippenberger" and manager of the artist's endowment, Gisela Capitain.
Kippenberger's often even vicious parody is directed against the jovial generation of fathers who wash down their Nazi past with beer and smooth it over with jokes, against leftist arrogance, as well as his own colleagues. At the exhibition "Peter. The Russian Position" in Cologne (1987), composed of 45 works of art, Kippenberger presented a table with a surface made of grey monochrome pictures by Gerhard Richter. He called this unusual piece of furniture Model Interconti.
In addition to his extensive work, Kippenberger, who died at the early age of 44, managed to stir up trouble wherever he went. Media and stylistic promiscuity was his tactic, and vicious humour his method. Whatever he said, he immediately did, though he didn't even spare himself: "Martin, stand in the corner, shame on you," was one of his frequent phrases.