Rainer, Arnulf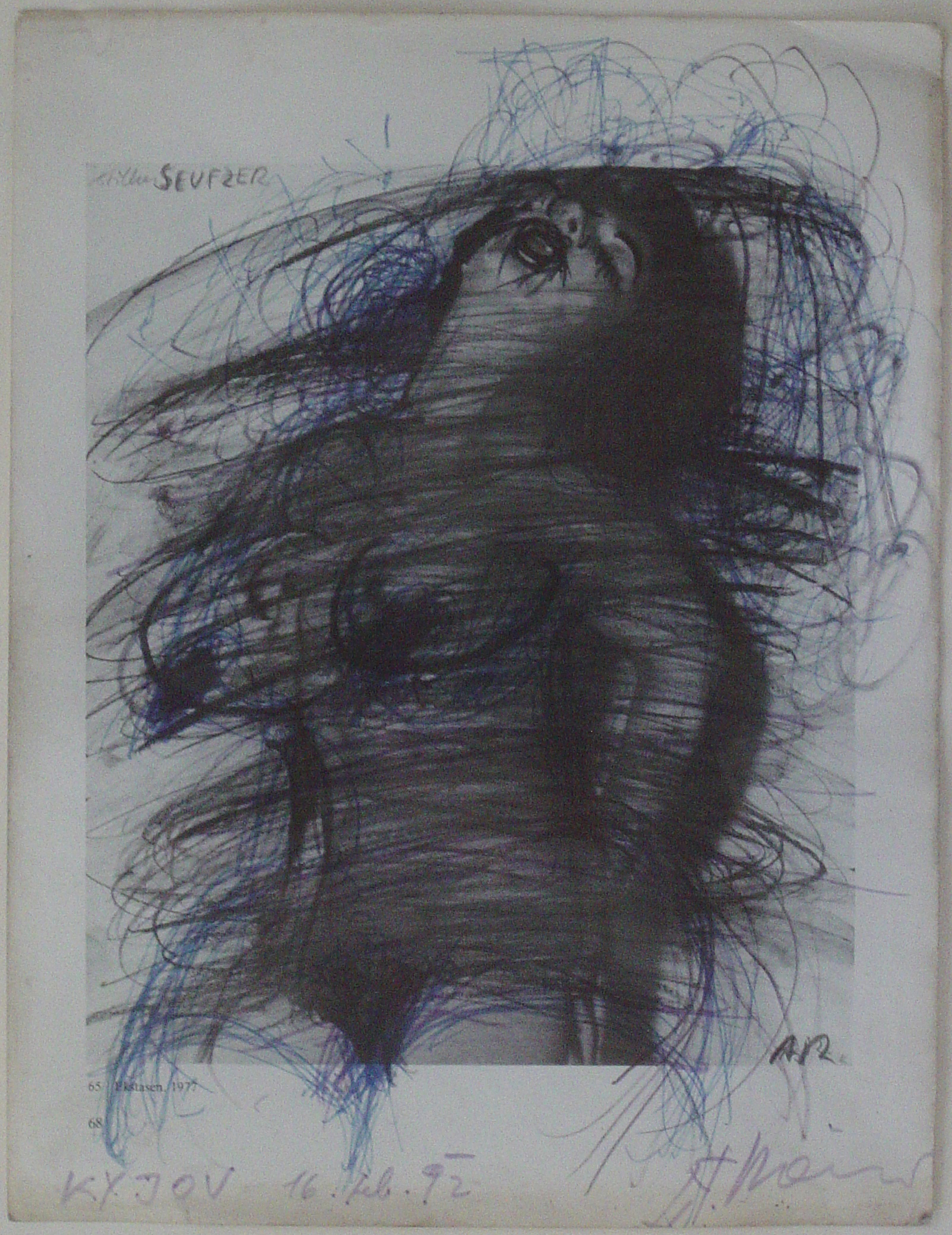 Born 1929 in Baden, Austria, lives in Vienna
Arnulf Rainer earned his reputation and recog­ nition through his retouch method. Whether his target is portrait photography, reproduc­ tions of famous works of art, or even original works, he liberally touches up works with an expressive, quick stroke of the brush, sometimes even using his fingers.
Rainer started his career as a rebel. He did not graduate from any art school, because he always dropped out early in protest. He engaged almost obsessively in experiments with abstract painting. "As a pioneer," Rainer said, "a person must permanently take mar­ ginal positions. At a later time, these become beauty." In the 1960s, the Viennese actionists' attempts at breaking away from traditional painting were still marginal. In the passion of the moment, the Vienna actionist Günter Brus even began to paint on his own body, which then became part of a picture. In the 1970s, Rainer altered photos of his own face, and later of his body in unusual positions, creating the series Face Farces and Body Poses—black­and­white photographs manipulated with an aggressive brush and sometimes using his fingers.
Even originals cannot escape Rainer's destructive mood. These are provided by artists such as Sam Francis, Emilio Vedova, Victor Vasarely, or Georges Mathieu, and Rainer often changes them into caricatures. This somewhat lightens up his destructive­ ness, despite Rainer's use of uncompromising brutality when painting over Madonnas or portraits of Jesus, similar to the Viennese actionists. However, in applying these de­ structive forces, he is attracted to other areas as well. In the cycle Hiroshima, he touches up photos of the city destroyed by the atom bomb at the end of World War II.
In recent years, Rainer has concentrated primarily on touching up photographs, so it is no surprise that he is interested in the works of the Czech photographer Miroslav Tichý. Rainer also manipulates his photos, but this time rather modestly—perhaps out of respect for the works of this eccentric. This restrained approach shows that his interferences need not be guided by destructive motives. Rainer even sought out this solitary eccentric in Kyjov, Moravia, and wanted to buy his works. Tichý refused to sell them, but instead gave Rainer two photos in exchange for a work that Rainer created on the spot. This later became the inspiration for the "Artists for Tichy — Tichy for Artists" project, which is based on trading Tichý's work for the works of artists who sympathize with him.