Niederer, Caro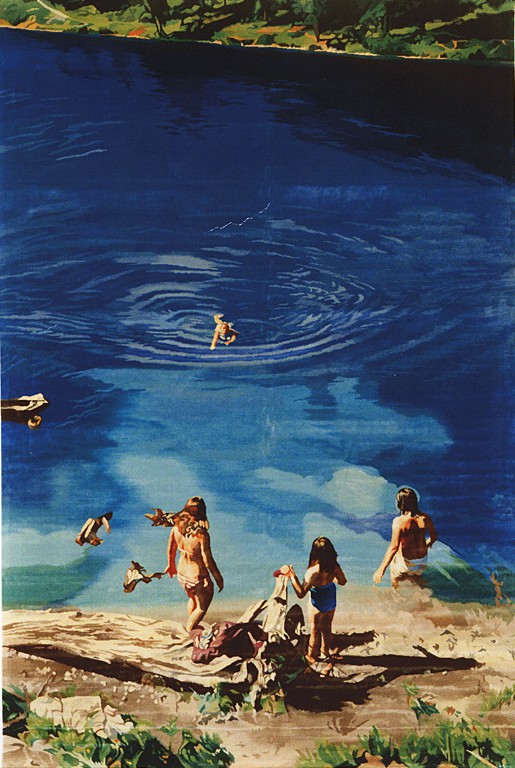 Born 1963 in Zurich, Switzerland, lives in Zurich
Her pictures are ordinary, banal, and in a way also charming, and this why they provoke. After all, who today is daring enough to paint charming pictures? Caro Niederer is not afraid of this. In the 1990s, she began to paint rather small superficial pictures using tourist brochures, postcards, and souvenirs that she brought back from her holidays. Her flat surfaces resemble the works of the late 19th-century Swiss painter Ferdinand Hodler. But as opposed to Hodler's bleak paintings, Niederer's pictures are characterized by their often flashy colours, an approach that has remained with her to this day. On one of her latest pictures from 2011, Desk, View and Chandelier, we see the bright-red top of a round table with colourful flowers in a vase on a rich blue background, a colourful picture on the wall, and a glowing yellow light above the table.
Niederer has never abandoned this colourfulness, even though she also worked with sepia ink techniques—brownish grey drawings made with natural ink taken from an octopus, which was used in the Middle Ages. Thus, her sepia drawings, showing in particular nature, parks and the seaside, seem not only romantic but also nostalgic, because they remind us of drawings that we are familiar with from art history.
In addition to pictures and drawings, Niederer also works with huge hand-woven rugs. She takes her own photos with her own children, for example, bathing in a lake, photos of flowers in a vase, or known European works of art, and has the images woven on colourful silk rugs at a special Shanghai manufacturer. In contrast with traditional European tapestries, unusual and original works are created with the non-European cultural perspective of Chinese weavers.
And this is what Niederer is interested in—everyday life and art in entirely common contexts. One of her exhibitions was entitled "Living with Art"—i.e. art for everyday life, and not for museums and professionals. Thus, Niederer understands her work not only as an attempt to find and display what is etched into our memory—such as a sunny afternoon with children at a lake—but also an attempt to return art to the roots of everyday life. This also led her to document her own pictures that are part of private collections with photos—she prefers to see them among messy desks, armchairs and cluttered shelves, because art is to be lived with.