Wurm, Erwin
Born 1954 in Bruck an der Mur, Austria, lives in Vienna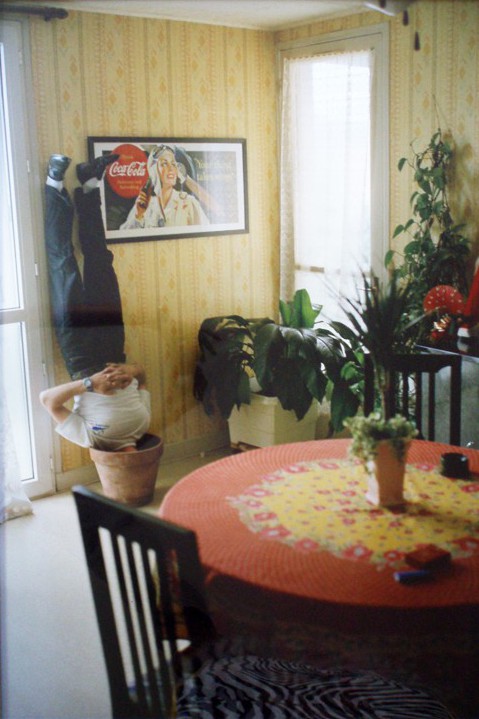 Have you ever been asked at an exhibition to take a pencil, a rubber eraser, or a bag, an orange or banana, and to pose and do unusual things with one or several of them, such as stick the pencil in your nose or in your ear or put the bag over your head? No? Then you have probably never been to an exhibition by Austria's most famous artist, Erwin Wurm. And hence you have also missed the chance to be photographed in this pose and to go down in history as a "One Minute Sculpture".
Since the end of the 1980s, Wurm has not only experimented with himself (the photographs in which he poses with pencils in his nose and in his ears, with a rubber eraser in his mouth, with magnifying lenses on his eyes or with a banana between his legs are well known), but also with the public. However, visitors do not become a celebrity for 15 minutes, as was imagined by Andy Warhol, but a sculpture for one minute. Anybody and anything can be art, as was declared by the German artist Joseph Beuys. And Wurm seems to be driven by this notion. However, his bizarre, sometimes sarcastic way of changing triviality into art also reveals the humour of this notion. Is a person with a bucket on their shoulders or their head in a doghouse considered to be art?
The topic of Wurm's creations is triviality, and the manner in which he deals with this is humour. "I think that truths about society and human existence can be expressed in various ways. A person cannot always be dead serious. Sarcasm and humour can help us see things in rosier colours," explains Wurm, who considers humour to be a weapon against the maladies of society—such as the greed of the petty bourgeoisie. This is why he has obscure models made from his idols, from cars, and from houses that resemble obese human bodies, which become the creeping threat of western civilization, and fills exhibition halls with them: Fat Car, whose headlights no longer work because they are covered with fatty pillows, or Fat House, with walls that are so swollen that they barely fit under the roof, and sometimes also human figures transformed into rolling balls.
Wurm became popular in 2003 when the music group Red Hot Chili Peppers was inspired by his "One Minute Sculptures". Then in 2006, he caused a significant uproar when he attached a real family house to the roof of a museum in Vienna's MuseumsQuartier, however, with the floor upside down. And this is not art?