Koťátková, Eva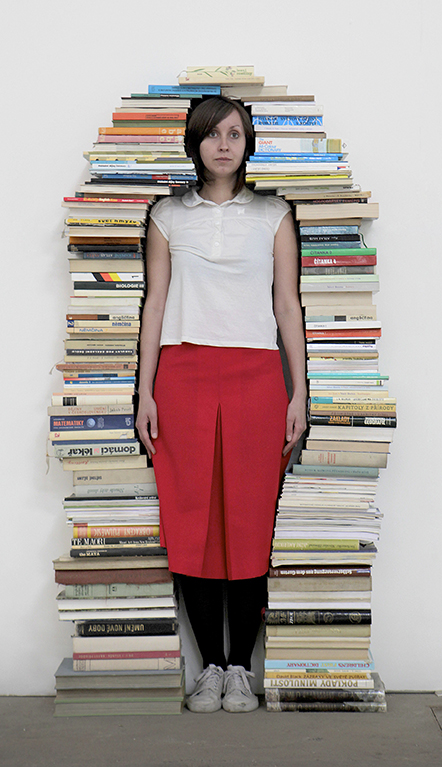 Born 1982 in Prague, Czech Republic, lives in Prague
Eva Koťátková struggles with space, childhood, and discipline. The result is pictures, unusual objects, installations, photography, and film. When she inherited a flat full of furniture from her grandmother, she decided to carry out a liberating act: to throw everything away. Then in front of a camera, she boarded herself up with planks in one corner of the empty room and imbedded herself in an opening cut out of the raised floor. In this manner, four films were created that demonstrate how constructed space restrains the body's movement. "There are rules and conventions that constrain us", Koťátková explains. "That's what I wanted to show." In 2007, these films, Behind between over under in (the room), could be viewed at Gallery Jelení in Prague.
After Koťátková dealt with the space in her inherited flat, she took up the topic of travelling to school, which for most children is the first independent experience with the space outside their home. She made a schoolbag out of wood and took her former route to school accompanied by a camera. Then in front of the school, she buried herself knee deep in dirt. Some of the children who curiously gathered around imitated her. In 2008, the film was a part of an exhibit entitled "Walk to School" at Prague's Špála Gallery, along with drawings reminding us of textbook illustrations and other films with children sitting in wooden structures similar to cages or at a table with their hands behind their back. These films appear horrifying and grotesque at the same time–like all attempts to control and adapt a child's body to the needs of everyday life. The films portray the lifelong conflict between discipline and the body's desire for movement, light, air and knowledge, as expressed by a child's primordial state of being.
Koťátková focuses on children and school experiments in other projects as well. In 2008, she created a school at the Karlín Studios and invited 24 artists to teach, including Jiří Kovanda and Dominik Lang. However, the threatened body is still her main interest. House Arrest No. 4 shows a platform made of iron rods for seven open books that can be attached to the body. Like medieval torture devices, this book holder is like an image of a quote by Jacques Rancière: "It is a matter of knowing the signs written on my body, the traces that are written by your own past and that are therefore much closer to the truth than any spoken word." Koťátková makes these often forgotten traces visible again.